Summer brings fun in the sun, but the dog days of summer can be quite brutal on you and your family. Your home is your reprieve — that is until your Air Conditioning system breaks down. Maybe you contacted an air conditioning company, and they recharged your system with refrigerant and presented you with a large invoice. The AC goes back to working for a while and then quits again! This article will help you understand the vicious cycle of AC breakdowns and help you decide what to do about that blasted unit.
How the AC system works
In describing how your AC works, we use the analogy of being in a boat in the ocean. The boat has a hole in it. Water is constantly coming in the boat and you have a cup to keep up with throwing the water back into the ocean to keep afloat. Your home or business both work in this same way. The heat outside (ocean) is continuously entering into your home (the boat) and the air conditioning system is you and your cup. The AC works to throw the heat back outside where its unobjectionable. When your system loses its refrigerant charge, it is like making your cup smaller, or [in some cases] losing the cup altogether. The AC system no longer has the capacity to remove the heat; therefore, you sink — or get hot in the case of the AC system.
Refrigerant is a specially designed fluid that removes the heat from inside of the home and dumps the heat outside. When your system is low on refrigerant, it means that it is leaking. Leaks vary in size and circumstances. Leaks could be present only when the system is running, or only when the system is idle. Leaks can be present in one location or in several. In theory, AC systems can last for decades and not show signs of refrigerant loss. On average, air conditioning systems last about 18 years. Usually at this point, the repair bills start adding up and it becomes more cost efficient to simply remove the headache.
Leaks typically come from three common areas: a manufacturers defect, poor welding practices during install or service, or a neglect in maintenance. Believe it or not, frequent filter changes and cleaning the outdoor unit will help give your system a longer life. When presented with a leaking Air Conditioning system here are some of the most common options:
Recharge as necessary:
Some customers prefer to recharge the system only as they notice that there is a performance drop in their Air Conditioning system. Building occupants normally notice when it is getting warmer and this prompts them to make a service call. This is detrimental in three different ways. For beginners, it is the cost of the refrigerant and service calls. If the system was manufactured before 2006 then it's likely that it has Refrigerant -22. The cost of the refrigerant per pound typically averages between $100 – 200.00 USD per pound. With most system holding between 4 and 5 pounds of refrigerant, the repair bills can add up over time. The 2nd issue is that the refrigerant inside of the Air Conditioning system also cools the compressor which is the main part of the Air Conditioning system. As the refrigerant leaks out, the compressor will overheat. This overheating will shorten the life of the compressor and when the compressor fails you are looking at a several thousand-dollar repair or total system replacement. The 3rd and probably most important is that refrigerant (when released into the atmosphere) contributes to some type of environmental impact, whether it is ozone depletion and/or global warming.
Leak Sealant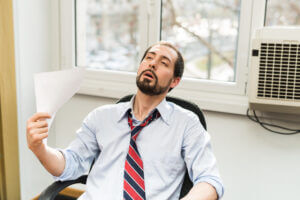 Some customers elect to use a leak sealant. There are several good leak sealing options on the market. A leak sealant is specially designed fluid to seal the leaks from the inside of the Air Conditioning system. The sealant is injected into the Air Conditioning system. If the sealant is successful, then you may never have to recharge your system again. If the sealant is not successful, it means that the leaks are a little too large for it to take and a leak investigation may be required.
Leak Investigation
Some customers may look to get the leak repaired so they ask for a leak investigation. A leak investigation is when an Air Conditioning technician is specifically looking for the refrigerant leak to repair it. This is a cost-effective way to resolve the leak, but it becomes less desirable as the Air Conditioning system gets older. The older the system, it becomes more practical to replace the — as compared to repairing it. Leak investigations include, pressurizing the system and utilizing instruments or chemicals to find the refrigerant leak. Leak investigation has the best benefit on equipment manufactured after 2006 due to product availability. If the equipment is older than 2006, you may not be able to find comparable equipment for replacement.
Total System Replacement
Last (but not least) is the complete replacement of the air conditioning system. This is costliest option but will generally come with some type of extended warranty. Air Doctors Heating and Cooling, LLC service all makes and models, but we prefer to install Carrier Air Conditioning products. Carrier products provide the quality and dependability that is unmatched. We offer a 10-year parts and labor warranty with all of our Carrier heating and cooling products (some restrictions apply). Depending on the system you select, (in many cases) we can get a utility-sponsored rebate for your project. Our new system installs come with a surge protector, voltage monitor, and other products to protect and keep your system running like new.
Book a service call today!
Air Doctors Heating and Cooling, LLC are a fully licensed and insured heating and air conditioning company that serves most Southeast Michigan municipalities. Our staff is fully certified and pre-screened to provide our customers with a safe and satisfying experience. With over 100 years of combined industry experience, we take pride in solving all of your comfort needs. We are a family-based business that has been providing quality service to our neighbors for over 40 years. Contact us today to get started.